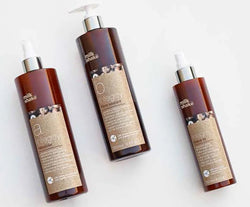 Integrity Rebuilder (step 1)
The first step of intensive reconstruction treatment for damaged hair. For professional use only.
Proven efficiency on the hair of 20 women with damaged hair, split ends, and who habitually have hair coloring treatments.
Benefits
The most important step,

 

intervening on the most damaged areas
Acts on the core of damaged hair and restores the hair's essential components
Repairs and reconstructs

 

the hair fibre in two steps
Strengthens

 

the resistance of the hair fibre
Gives damaged hair what it needs: keratin, proteins, amino acids
Deeply nourishes

 

damaged hair without weighing it down*
Gives back hair maximum beauty potential for restructured , healthy, perfect hair
The hair appears shiny, soft and strengthened from within after the first application
*when applied under a heat source
Technology
Amino acid complex

 

- a plant-based keratin with 18 wheat and soy amino acids with an antioxidant, strengthening and protective action
Hyaluronic acid

 

- a super-hydrating ingredient of low, medium and high molecular weight that penetrates easily into the hair fibre
Organic muru muru butter

 

- repairs, nourishes and strengthens the hair
Organic buriti oil

 

- an excellent natural antioxidant that repairs the damage caused by free radicals
Milk proteins

 

- give strength and resistance to the hair fibre
Organic strawberry & goji extracts

 

- have a protective, toning, emollient and conditioning action
How to use
Cleanse the hair with

 

milk_shake deep cleansing shampoo
Divide the hair into 4 sections and apply milk_shake integrity rebuilder evenly
Massage with fingertips to guarantee a greater penetration of the product and comb through
Move on to Step b with

 

integrity milk_shake fiber sealant
Depending on how much care the hair needs, the products used for the reconstruction treatment may vary. There are 3 levels of intensity of the milk_shake® integrity reconstruction system service, according to the hair's condition: Very damaged hair, weak and damaged hair, slightly damaged hair.