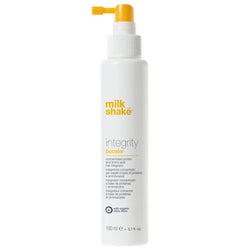 Integrity Booster
milk_shake integrity booster is a concentrated pre-shampoo protein treatment and nourishing hair supplement. Formulated with amino acid proteins, it is ideal for restructuring and restoring damaged or chemically-treated hair. milk_shake integrity booster also helps to preserve hair color, and contains organic muru muru butter for nourished and conditioned hair.
Muru muru butter is extracted from the muru muru seed, and is rich in fatty acids that have a nourishing, soothing and moisturizing effect on hair and skin. It also contains vitamin A to repair, nourish and strengthen hair.
Use: Shake well. Before washing hair and while it is still dry, spray milk_shake integrity booster over dry lengths and ends, then blow-dry. Wash with milk_shake integrity nourishing shampoo.
.