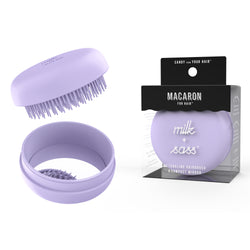 Detangling brush Lavender
Macaron for Hair™
Say "Bonjour" to the bite sized detangling brush making a massive impact!
The Macaron for Hair™ is a sweet and petite Parisian inspired detangling brush that smooths tangles in half the time of conventional brushes. The pop on/pop off cover works double time as a bristle protector and compact mirror perfect for travel and on the go styling! Strategically sturdy radial bristles are combined with a lightweight ergonomic design for optimum comfort, control, and tangle taming for every hair age, type, and texture.
Results: Fast and gentle detangling, without the breakage and pulling caused by other brushes. Hair is smoother, frizz free, and full of shine.
Suggested Usage: Macaron for Hair™ works magic on every hair age including children's hair, be it wet or dry, curly or straight, thick or thin, real or synthetic.
Not for use with heat.